Governor Greg Abbott on Wednesday, November 16, 2022 ordered the Texas Department of Public Safety (DPS) and Texas Military Department (TMD) to expand their unprecedented efforts to combat the growing illegal immigration along the Texas-Mexico border.
As chairman of the Texas Opioid Abatement Fund Council (OAFC), Texas Comptroller Glenn Hegar announced Tuesday, November 15th, the transfer of a one-time allocation of $5 million to the Texas Access to Justice Foundation (TAJF). This transfer represents the first transfer of funding recovered through statewide opioid settlements with pharmaceutical manufacturers, distributors and other parties responsible for the opioid epidemic.
Governor Greg Abbott today called for an investigation into the widespread problems with Harris County's elections last Tuesday. Voters in Harris County were frustrated by confusion and delays including missing keys, insufficient paper ballots in Republican precincts, staffing problems, and more.
 A new national Literary Landmark honoring Texas author Larry McMurtry will be unveiled ina special dedication ceremony made possible by the Archer Public Library in Archer City on …
Governor Greg Abbott, the Texas Department of Public Safety (DPS), and the Texas National Guard are continuing to work together to secure the border; stop the smuggling of drugs, weapons, and …
This month, the Texas Department of Public Safety (DPS) answered Governor Greg Abbott's call to action for state agencies by launching a new public awareness campaign to highlight the dangers of fentanyl. The multi-pronged campaign includes posting informational signage in DPS buildings, public service announcements at driver license offices statewide and publishing a webpage offering valuable resources.
(AUSTIN) —Texas Comptroller Glenn Hegar today said state sales tax revenue totaled $3.82 billion in October, 11.9 percent more than in October 2021. The majority of October sales tax …
With dry weather persisting throughout much of the state, Texas Parks and Wildlife Department (TPWD) biologists expect hunters to see deer consistently frequenting feeders during the start of the general white-tailed deer season.
Texas honey production was expected to be below average this season due to the lack of soil moisture and extreme heat across the state, according to a Texas A&M AgriLife Extension …
AUSTIN – The Texas Workforce Commission (TWC), in partnership with local workforce development boards throughout the state, and the Texas Veterans Commission (TVC), will host hiring fairs for …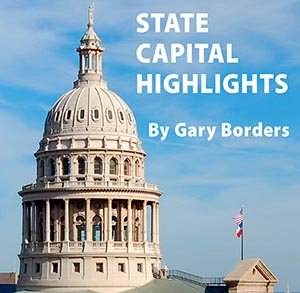 Early voting for the general election ends on Friday, Nov. 4, with the closely watched governor's race pitting incumbent Gov. Greg Abbott against challenger Beto O' Rourke headlining the ballot. A number of other statewide races are on the ballot, including lieutenant governor, attorney general, land commissioner, agriculture commissioner and comptroller.